We Are Now BYO!!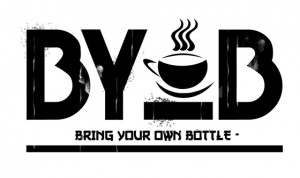 Black n Brew celebrates 7 years, adds BYOB
The cafe Black n Brew marked seven years this week at its bedazzled corner overlooking the fountain at 1523 E Passyunk Ave. And to celebrate, they've started BYOB service.
Hours will stay the same, 7 a.m. to 5 p.m. daily, so this will be a rare breakfast/lunch/brunch BYOB. Co-owner Colleen DeCesare says customers ask fairly regularly about having a drink with lunch, so they decided to accommodate.
"We are fans of The Bottle Shop and would like to partner up in some way," said DeCesare, who noted that patrons were always allowed to bring wine to art openings. "I think it would be pretty cool to get a six pack in the warmer weather, grab one of our outside tables and enjoy our fare."
DeCesare said they're building a collection of proper glassware, so you can start bringing in wine, beer or champagne (they sell juice for mimosas).
Congratulations, ladies.